Go Bottom
---
Engine fix after rollover
2013-12-16 188470
Unfortunately I managed to roll my 2320 on its side this afternoon. I was on a slope and the rops hooked on a tree. The tractor pivoted around the tree 180 degrees and the front wheels lifted of the ground and it flipped on it side, wheels across and up the slope. Fortunately, the rops worked and it did not roll on top of me as I was thrown to the ground. The motor was still running but thick smoke started coming out the exhaust. I switched it off as I guess sump oil was getting into the cylinder. I am aware of the danger of running a motor full of fluid so I left it for sometime before trying to start it however when I did try it turned over then stopped with a bit of a clunking sound I have left it and am trying to get some info as to what is the next step. Can the glow plugs be removed to let any oil out? Some of written that the injectors have to be removed. Is there anything else I should check?
Any comments appreciated.
Reply to
|

Quote Reply
|

Add Photo
---
Engine fix after rollover
2013-12-16 188471


The landcruiser pulled it straight up ....

Picture Link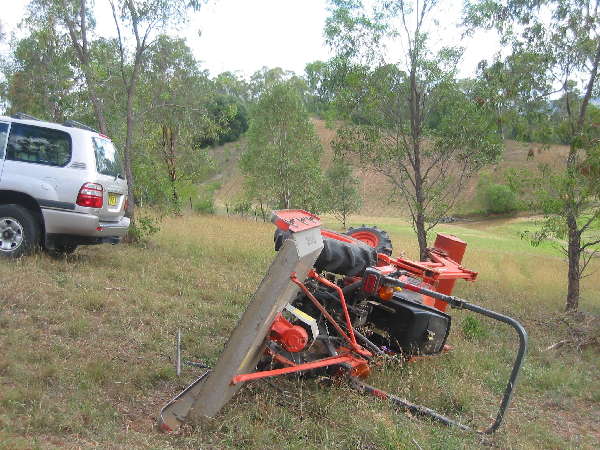 Reply to
|

Quote Reply
|

Add Photo
---
Engine fix after rollover
2013-12-16 188472


First thank God you did not get injured or worst.

I would begin with checking all fluids for level and contamination. Agree with removing injectors so any oil in there can come out without damaging the engine. However understood you have already turned it over and would expect if there was oil enough in there to damage it has happened. Then have heard some mechanic say a started is not strong enough to create that much compression.

Would also check fan blade clearance. Just do a very careful visual inspection of the tractor for such as broken hoses as you don't want it to crank and hit you with high oil pressure.

When I bought my small Kubota it was going to be used for mowing my lawn for one thing and the dealer knew it. He asked real quick about the trees and the limbs. ....

Reply to
|

Quote Reply
|

Add Photo
---
Engine fix after rollover


MHarryE
Join Date: Feb 2009
Posts: 18 Northern Minnesota

2013-12-16 188473


Surprising because I have been involved with uprighting several machines after rollover and have never had a problem despite several people speculating on tractor forums. Speculation is that oil gets into the combustion chamber so the engine won't turn over due to hydraulic lock and this sounds like what you have and removing glow plugs will allow oil to squirt out when you crank it over. My experience, however, has been that good cylinder sealing from the piston rings prevents oil from getting into the combustion chamber side. Rolling a tractor - when I was chiding a co-worker for having rolled his tractor (his uncle told me because he wouldn't admit to it) he told me there are 2 types of tractor owners - those who have rolled and those who don't do anything. Guess he told me. ....

Reply to
|

Quote Reply
|

Add Photo
---
Engine fix after rollover
2013-12-16 188474


Like has been said you are indeed fortunate to have not been hurt or killed. Several years ago a neighbor was mowing under some apple trees with an older tractor without a roll bar. He didn't see a low branch that caught him tipping him off the tractor backwards. He spent a long time in the hospital then wore one of those "Halo Type" braces to keep his head in a solid position until his broken neck bones healed.
OK, I'm a bit off the subject, yes like was said check all the fluid levels, fan clearance, etc. The old time diesel engines with an oil bath air cleaner could run wild if the machine was tipped too far and raw oil got sucked into the cylinders. I'm guessing a bit here but I think if you let the tractor sit for a few days most of the oil above the pistons will leak back down past the rings and likely will start up without much problem. It might not hurt to check the oil level in the mower gear box too.
Not to make light of your situation but it looked like a good opportunity to service the mower blades.

Frank. ....

Reply to
|

Quote Reply
|

Add Photo
---
Engine fix after rollover
2013-12-16 188477


Thanks for the replies. It is in a difficult location for me to get back to my shed so I think I will leave it where it is for a couple of days and then try again. ....

Reply to
|

Quote Reply
|

Add Photo
---
Engine fix after rollover
2013-12-17 188482


Update.
I left it for a couple of days and no change. The engine is less than 200 hours old so the oil must have got in through an open valve so no chance to drain back. I towed and pushed it back to my shed where I started work on it. The glow plugs were easy to get at after removing the air cleaner and its holding bracket. The plugs came out easily and I tried to turn it over by hand without much luck. I then hit the starter motor and a geyser of oil sprayed out of number one cylinder. The others were oil free. I would suggest to any one doing this they put a rag over the hole to stop the room being coated with thick black oil spots. After a few more turns only fuel was coming out so I put it back together and it started straight away. I also had to replace the air filter as the oil had made its way back to the filter and was in the inlet manifold as subsequent starts and the first ten minutes of running produced copious quantities of blue smoke.
Lesson learned. Don't be complacent on slopes and go out feeling tired and not fully aware when your driving. It was totally unexpected as when the front wheels lifted off the ground I really had no control and gravity took over. I was lucky to get away with a few scratches and a bruised thigh when I hit the ground. ....

Reply to
|

Quote Reply
|

Add Photo
---
Engine fix after rollover
2013-12-18 188483


Sounds as you were very fortunate in this as could have been much worse for you and your equipment. Yep the rag would have been a very good idea. If you work around these trees with tractor are you able to prune off the limbs that do not clear it?

KT ....

Reply to
|

Quote Reply
|

Add Photo
---
Engine fix after rollover
2013-12-18 188485


Yes that tree will go. It is only young, trunk about 5 inches in diameter. The top of the rops caught behind the trunk of the tree. The tractor was tilted at an angle since I was moving across the slope and on the high side, whereas the tree was vertical and I went too close to the trunk. The front wheels lifted off the ground as the rops caught the tree and the tractor pivoted around the trunk. The FEL bucket no doubt helped this. When the tractor had spun almost 180degrees , the rops then released from the tree and the tractor fell to the ground across the slope. Because the tractor fell, there was enough rolling momentum to make it tip. The tractor would have been able to cope with the slope without the falling action. ....

Reply to
|

Quote Reply
|

Add Photo
---
Engine fix after rollover
2013-12-18 188487


Bristan8,

I'm happy to hear that all is well with you and the tractor. Good endings are always welcome news.

Not long ago we had a similar incident not too far from me. An older farmer had just purchased a new subcompact tractor to use as his primary mowing machine. Not ever having a ROPS on any tractor he previously owned, he completely forgot that his overhead clearance had been reduced by a couple of feet.

While mowing around his main power pole, the ROPS caught on the guy wire.......a cable that runs at an angle and serves as an anchor point for the power pole. His tractor immediately flipped over backwards, at least until the ROPS cleared the guy wire, then the front tires slammed to the ground and the operator was thrown over the hood and onto the ground. He was badly injured, but survived. His tractor was badly damaged. Broken front axle, broken radiator, battery box damaged beyond repair, etc.

I would never mow a ditch without the ROPS installed.....but I now stay well aware of my overhead clearances. (Garage door openings, low hanging branches, guy wires, clothesline wires, etc.)

Just happy to hear you're OK. Merry Christmas!

Joel ....

Reply to
|

Quote Reply
|

Add Photo
---
Engine fix after rollover
2013-12-19 188488


Bristan8,
You did a good job of explaining what happened and hope all read it. The tilt as you experience is a real issue many don't realize. We bought lawn mower this year with roll bar and it did not take but a few minutes to realize roll bar up near ditch and no trees to roll bar folded down other wise. Realize folding roll bar would cost more for a tractor but may have prevented your accident but had the accident happened with roll bar folded may have ended different.

I live basically on flat ground but had similar issue due to hole tractor tire fell into as I was beside a big tree. What made me aware of the issued was the canopy mounted on the roll bar. As the canopy extended about 3 or 4 feet in front of the roll bar as soon as the tilt began I saw it coming in contact with the tree and while the thought of roll bar catching never entered my mind knew did not want to damage canopy and quickly backed out.

I will join with Joel and say to all Merry Christmas and May God Bless you and yours.
....

Reply to
|

Quote Reply
|

Add Photo
---
Engine fix after rollover
2013-12-22 188502


Glad you were not hurt. Just curious, did you have your seat belt on? If not, do you think you would have been more or less safe with it on?

Joe ....

Reply to
|

Quote Reply
|

Add Photo
---
Engine fix after rollover
2013-12-23 188504


I generally do not wear the seatbelt as I have made the conscious decision that I would bail out in the case of an imminent rollover. On this occasion, as it happened unexpectedly, I was thrown out before I could jump. In retrospect it may have been safer to have been strapped in, I don't really know. I did jump off it once before when one side ran over a log and I thought it may rollover It didn't rollover but I jumped off quite safely. ....

Reply to
|

Quote Reply
|

Add Photo
---
Engine fix after rollover
2013-12-23 188507


It is my understanding if you have roll bar wear seat belt, if not do not wear seat belt. That being said I have wondered on such a roll onto it's side as this how well it will hold you from hitting before the roll bar does. I have canopy on both my tractors and the option of jumping clear is not there. ....

Reply to
|

Quote Reply
|

Add Photo
---
Engine fix after rollover
2013-12-23 188508


Yes KT, my fear also is whether the seat belt will really hold you in. Or will you have some limbs extend beyond the ROPS. I generally use the seatbelt with the ROPS if I am going into any precarious situations. Then again a precarious situation is often one that does not appear to be precarious and then turns out to be one! ....

Reply to
|

Quote Reply
|

Add Photo
---
Engine fix after rollover
2013-12-29 188551


There's a reason that tractors equipped with a ROPS are also equipped with a seat belt. That seat belt is what keeps your fragile body in a position where the ROPS protects you. Fail to wear the seat belt and you get tossed out (as you discovered) and the ROPS itself can crush you to death if some other part of the tractor doesn't. Simple concept - no ROPS, no belt. With ROPS, wear belt. ....

Reply to
|

Quote Reply
|

Add Photo
---
Engine fix after rollover


Murf
Join Date: Dec 1999
Posts: 7248 Toronto Area, Ontario, Canada
Pics
2013-12-30 188561


There's pro's & con's to both wearing and not wearing a belt, ROPS or otherwise.

Thankfully we've only ever had a handful of rollovers in all the years we've been operating.

In one case it was similar to this one, a tree caught the ROPS and flipped the unit while it was snowplowing. In another a machine got pushed downhill by the trailer it was towing and jack-knifed also flipping it over. The others were what the operators called 'slow motion' rollovers, they were slow & controlled and the operator merely stood and jumped off the high side. In both of those the operators doubted they could have gotten off if belted in.

We leave it up to the operators discretion given the work and operating conditions.



Best of luck. ....

Reply to
|

Quote Reply
|

Add Photo
---
Engine fix after rollover
2013-12-30 188562


Rich, your rule may be ok when the terrain is flat and if you are in an enclosed cab tractor. What would happen if you are strapped in, and the open cab tractor rolls onto a tree stump , a boulder or other hard object? Also your head may strike the ground even if the ground is flat. Crash Helmets required?
Personally I just feel safer being able to jump free. I certainly will be more careful around trees in the future and make sure the Rops is set at an angle rather than straight up as it was on this occasion. ....

Reply to
|

Quote Reply
|

Add Photo

Go Top


Share This