Go Bottom
---
John Deere 3 Series Compact Tractor
2020-05-04 199127
Was looking at a new 3025D with loader NO Mower runs around $23,000. I thought the 2 series was a bit too small.

Anyone have one of these?
Reply to
|

Quote Reply
|

Add Photo
---
John Deere 3 Series Compact Tractor
2020-05-04 199128


Nice looking machine, but expensive ....

Picture Link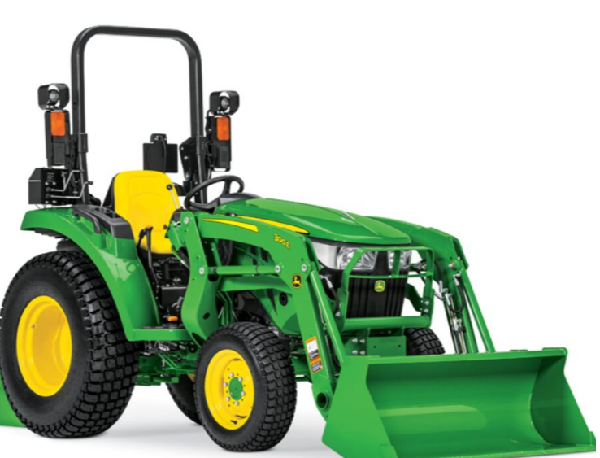 Reply to
|

Quote Reply
|

Add Photo
---
John Deere 3 Series Compact Tractor
2020-05-05 199129


I do not own one but my brother in law owns a 3000 series. Not sure the exact model number, think about upper 30 to low 40 hp. Probably in the 30s hp. I was there (Texas) two years ago and ran it a few hours. Most rocks I have very worked with in my life. I like the tractor and the fel a lot. Enough I tried to justified buying one myself. LOL Things I remember well on it: power was very good. Had two ranges but the low range worked great for fel work and roll over box blade for pulling rocks up to move with fel. The low range had higher speed by far than the low range on my B2710 Kubota. It was very stable and were using it on rolling ground. The only negative I found was my right leg was hitting and not sure if lowering or raising the fel when I would twist to see behind me. Was pulling rocks and backing up near a drop off. I was not feeling my leg against the lever, that is how smooth the fel lever was.
He did not have a mid mount mower on it. So no idea about that. I found it to be a great tractor based upon 10 to 15 hours in it's seat. If you are looking at any tractor be sure the operator's area fits you. From the seat to the controls and ease to check over your shoulder. Mirrors and if necessary review cameras are big helps. Ease of getting off and on the tractor is important. I rather not have a pin on bucket setup. Would want quick connect for the bucket and rather have the more common skid steer mounting system as you can find used implements easier. However if you rather not loan your implements or tractor the JD hitch may have its advantage. Oh, do not loan your tractor. Protect and do the job as a favor but do not loan your tractor. JD has very good insurance.

He bought his tractor June three years ago, he paid at least that much then. I thought it was in the 30,000s but may be wrong. He confirm the purchase while on vacation in my office. That was with fel and I think maybe a mower (rear) with it. Now I need to ask him if he got a mid mount mower. If he does will ask his opinion on it.

I currently own three Kubota's (one will be leaving I hope soon) and one JD. I have gotten good service from the Kubotas, but would trade the JD for the 3 but selling due to stopping farming. Can not explain it but the JD just "feels" smoother all the way around. Gives a level of confidence that has impressed me and two others who have other brands also. ....

Reply to
|

Quote Reply
|

Add Photo
---
John Deere 3 Series Compact Tractor
2020-05-06 199131
Quote:

Reply to

|

Quote Reply

|

Add Photo

---

John Deere 3 Series Compact Tractor

2020-05-07 199133



Not sure on the leg room between the Kubota and JD. To me it was more the design of the JD loader valve or the placement. I have been pleased with the legroom on my B2710 Kubota and was pleased with it on my brother I laws JD 3000 also.

He did not have the mid mount mower so no idea on your questions on the mower. Not sure what model or even brand right off but read recently the extra frame used either for fel or backhoes had to be removed for their mid mount mower. NOW I DO NOT Remember the brand. ....
Reply to

|

Quote Reply

|

Add Photo Go Top
Share This