Go Bottom
---
Kubota BX70 Series review
2013-03-22 186454
Kubota has a new BX70 series Sub Compact Tractor. The models are the BX1870, BX2370, BX2670, and the BX25D.

From mowing the lawn to a complete landscaping
makeover, nothing beats Kubota BX tractors for
getting the job done. Introduced in 1999, Kubota
BX sub-compact tractors have been a market
leader. They have the power and versatility for
digging, hauling, plowing, and all the other tasks
around the yard. Moreover, their compact size
makes them easy to handle and store. Comfort
and operability—hallmarks of the BX-Series—
have been enhanced to reduce operator fatigue
and increase operator satisfaction. The BX25D
is equipped with backhoe and front loader as
standard equipment, making it the versatile choice
for those special tasks.

Even comes with an arm rest, nice :)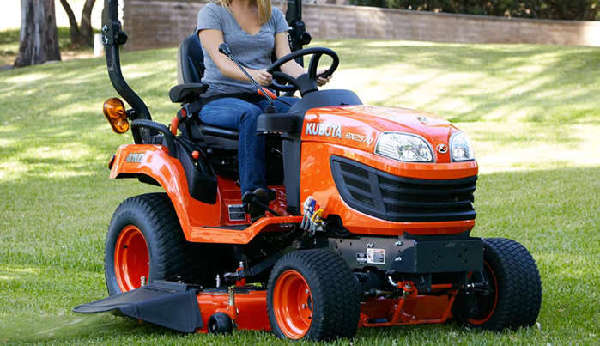 Reply to
|

Quote Reply
|

Add Photo
---
Kubota BX70 Series review


EMERICHSALES
Join Date: Jul 2003
Posts: 75 187 Valentine Road, Charlton/Ballston Lake, NY 12019
Pics
2013-03-22 186457


The Best Tractor Made Just Got Better !!

*Same Steel Hood and Fenders.
*New Dash Panel, Gauges and Steering Wheel.
*Brake Pedal Relocated to Left for Ease of Use.
*New Deluxe High-Back Reclining Seat W/Arm Rests
*Foldable ROPS
*Kubota Diesel engine and Kubota Hydro
*New Optional LED Work Lights
*Best In Class
....

Reply to
|

Quote Reply
|

Add Photo
---
Kubota BX70 Series review
2013-03-22 186458


The BX series has some good points, but I have one major complaint. My BX1860 has enough horse power to do all I have asked of it,so higher horse power would not be my complaint. I am used to a three point control that places the three point levers at a certain position with respect to the tractor or tried to get there depending on the position of that lever. This BX control of the three point arms is either on or off either up or down. There is no way to set that lever to a certain up or down position, even if it can't get there, as for digging, etc. Lever is self centering, as most hydraulic controls would be for say log splitter or other simple hydraulic use. It works the way the front end loader control works. Move the lever and the implement moves. However, once you let up on that lever, even if the blade or rear implement is not where you want it, the blade stays there. This requires almost constant fooling with up or down to move the rear blade in my case. I've had the tractor for three winters for snow plowing and I cannot get used to this form of three point control. Makes it not the best tractor in my view. I can not recommend any one getting this if he intends to make much use of the three point. ....

Reply to
|

Quote Reply
|

Add Photo
---
Kubota BX70 Series review


EMERICHSALES
Join Date: Jul 2003
Posts: 75 187 Valentine Road, Charlton/Ballston Lake, NY 12019
Pics
2013-03-23 186464


Better Yet. The New BX70 Series has an Optional Front Quick Attach. The Best way to plow Snow is with a Front Plow. Just take the Loader Bucket Off and Put on the Front Plow !! Then just push the Loader Lever all the way forward for Float position. Again, The Best just got Better !!

http://www.kubota.com/product/bx70/bx70.aspx ....

Link:
NEW BX70 SERIES KUBOTA SUB-COMPACT TRACTORS
&nbsp
Reply to
|

Quote Reply
|

Add Photo
---
Kubota BX70 Series review
2013-03-23 186467
Quote:

Reply to

|

Quote Reply

|

Add Photo

---

Kubota BX70 Series review

2013-03-23 186469



While I am not turned off totally with the BX, I should say I only got it because the dealer for the blue tractors didn't return my e mails!!! His boomers look great. I have two of the older blue tractors of the compact series. They have a great three point system and that spoiled me. The BX is used at a city lot, while the blue tractors are on country lots.

I had to modify the BX control handle of the three point with an extender to the rear, since that control is way forward on the fender. For this old guy at age 85, holding that lever while looking backward at rear equipment just doesn't work.

I really was not expecting that the BX three point control would be any different than my experiences and that of my neighbor with the B series. It goes to show ya gotta test everything before buying.

As to snow plowing with a plow in front, or just a bucket, try that on a lawn area with not frozen soil below. I use my rear blade in reverse, blade pointing away from the movement direction. It works. ....
Reply to

|

Quote Reply

|

Add Photo

---

Kubota BX70 Series review

2013-03-30 186519




Oldest guy there is a way to use the bucket. I don't know if you have a dirt drive or paved but it can be done. I have paved and scrape it to make my neighbors wonder if it's heated and when I get near the edge I roll the bucket back a bit onto the heel to go onto the lawn. I'' not going to say I don't mis-judge it from time to time but it works. ....
Reply to

|

Quote Reply

|

Add Photo Go Top
Share This