Go Bottom
____________________________________________________________________________________
Utility poles or Presure treated posts


Capt1971
Join Date: May 2016
Posts: 2 South Carolina

2016-05-08 195130
Hello All!
The Wife and I, are in the pre-planning stage of building a pole barn, and have decided on building a monitor style barn 36x36 So I have been pricing lumber at Lowes starting with the poles, then I found someone in my area selling 25ft utility poles for $10.00 this will dramatically cut the cost of poles in half! My plan is would be boring the holes and setting the poles and back filling with gravel instead of in casing them in concrete. I also was thinking about coating the 4 ft that goes in the ground with roofing tar and wrapping it with black plastic sheeting ( I know that's probably overkill but just an idea). I am pretty sure that utility poles will last a lifetime, but we sure would appreciate any thoughts and advice.
Thanks Capt1971
Picture Link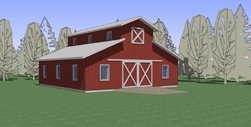 Reply to
|

Quote Reply
|

Add Photo
____________________________________________________________________________________
Utility poles or Presure treated posts
2016-05-11 195149
The best advice I can give you is to ask others locally how the poles hold up. Here we have high water levels and we see those poles used but not in buildings. For such that can easy be replaced or repaired. Then if rot on the part in the ground is the issue you may can cut it off and still have tall enough poles. kt ....
Reply to
|

Quote Reply
|

Add Photo
Return to index

Go Top


Share This