Go Bottom
____________________________________________________________________________________
thermostat replacement
2013-06-21 187432
i have a 2003 2425 good tractor but i have a question about the thermostat, i noticed that the thermostat housing had jb weld on it so i decided to order a new one and replace the thermostat while i was at it. the parts manual shows the thermostat under the housing but mine was under the thermostat block? I see a beveled edge on the thermostat block but not sure it i goes between the engine and the thermostat block or the thermostat block and the thermostat housing? makes more sense that it should be under the housing between the thermostat block and not the engine block. can anyone tell me for sure. also best type of antifreeze to use? im sure it has the wrong stuff, looks green.
Reply to
|

Quote Reply
|

Add Photo
____________________________________________________________________________________
thermostat replacement
2013-06-22 187438
I think you're right, sounds as if the old thermostat was installed incorrectly. I'd expect to pull off the cover and be able to pluck the thermostat right out by hand. But to be sure, check the location of the bypass hose. You want to make sure that the thermostat is in a location that permits cold coolant to flow back to the radiator (through the bypass) until such time the thermostat opens.
Anti-freeze color has become confusing in the last 10 years or so. Green suggests that it's an on-road coolant typically found in older cars and trucks. But that may not be a bad thing. If you've got a dry-sleeved engine, that stuff's ok. But many diesels are wet-sleeved, which requires an SCA-type antifreeze. I err on the side of caution, and use a wet sleeve coolant; specifically, Peak Final Charge Global 50/50. If that's not conveniently available in your area, Peak Fleet Charge is fine as well.
//greg/ ....
Reply to
|

Quote Reply
|

Add Photo
Return to index

Go Top


Share This
Tractorpoint Parts
Fast Delivery!
Low Prices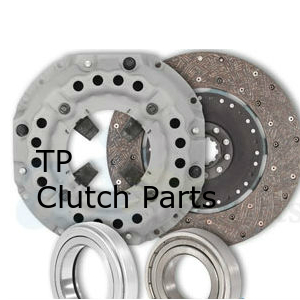 Clutches Single | Double