Go Bottom
____________________________________________________________________________________
Belarus clutch


stevewg
Join Date: May 2013
Posts: 2 Sharon, NH

2013-05-10 186910
I have a Belarus 532 4wd. the clutch will not disengage all the way. I have adjusted the linkage and seems to be right but transmission still turns. Can someone help?
Reply to
|

Quote Reply
|

Add Photo
____________________________________________________________________________________
Belarus clutch
2013-05-14 186963
Steve
First make sure your PTO is out of gear.
If your clutch is adjusted to spec and the linkage is not flexing or bending the clutch may be froze to the flywheel.
Make sure you have the Free Travel, that inch or 2 the clutch goes down before it starts to release the clutch.
Your model I do not know exactly. Mine was not releasing.The Clutch plate was stuck to the flywheel.
Mine had a access plate in the area where you adjust the clutch. I did the same thing we used to do for old trucks.
Took the plate off
Had my wife push in the clutch
I placed a small cold chisel on the flywheel face so when I hit the chisel it would go between the clutch and flywheel. Hit the chisel a couple of solid blows. It made a dent in the clutch material bit no big deal. You may or may not see the clutch break loose from the flywheel.
With the tractor out of gear start the tractor and let it run for a couple of minutes. Push the clutch in and out a few times while you rev the engine up a little. If the chisel did not break it loose completly the centrifical torque should finish breaking it loose. Try shifting into one of your lower gears to see if the clutch is released.
If that did not do it I would try the chisel and run it one more time.
Last resort if the clutch still will not work. This last one is what I would do on my own tractor. Not recommending you do it but could work. I would start adjusting the clutch to increase the free travel (that inch or so the clutch pedal goes down before it starts to actually start doing anything to release the clutch. Increase the free travel a little (1/8-1/4 inch) at a time and test it.
....
Reply to
|

Quote Reply
|

Add Photo
Return to index

Go Top


Share This
Tractorpoint Parts
Fast Delivery!
Low Prices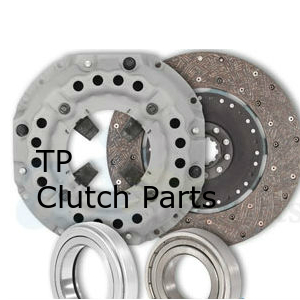 Clutches Single | Double