Go Bottom
____________________________________________________________________________________
Bosch MX25E Oscillating Tool
2011-12-16 181676
My house is 14 years old now and I am getting quite a few places where the trim has begun to rot. I bought the Bosch MX25E so that I could cut wood where you cannot get a normal saw. The tool is 2.5 amp and has the power to cut through 5/4 trim boards without a hitch.
The blades are expensive but the carbide tip plunge blade has been terrific, cutting trim boards, cutting cedar siding nails etc.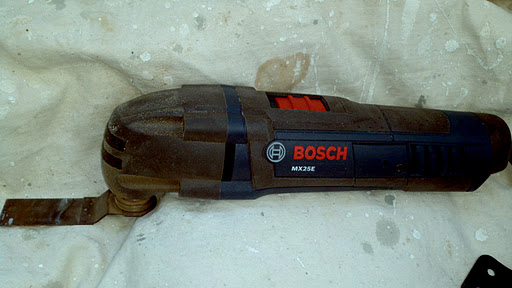 The tool can be used for other uses as well like sanding, scraping and grout removal.
Reply to
|

Quote Reply
|

Add Photo
____________________________________________________________________________________
Bosch MX25E Oscillating Tool
2011-12-16 181678
Dennis;
I had extremely good results using Bosch power tools when we ran the furniture plant. I've still got all of them. They seemsed to run on and on after others like Sears, Black and Decker and the others that went consumer line would give up the ship.
Two of my Bosch sanders are the little triangle sanders that look a good deal like your oscillating tool. I've wondered of the sanding pad can be removed and replaced with the cutting tools like is on yours?
Frank. ....
Reply to
|

Quote Reply
|

Add Photo
Return to index

Go Top


Share This