Go Bottom
---
John Deere Debuts New 4075R Compact Utility Tractor
2023-05-31 201630
Offering premium power and versatility to its customers, John Deere debuts its 2024 model-year upgrades on its lineup of 3R- and 4-Series compact utility tractors. In addition, John Deere unveils its latest 4-Series model, the 4075R Compact Utility Tractor, equipped to tackle jobs for customers in the commercial snow removal and large-property owner markets. Highlighting increased reliability and technology readiness, the updated 4R-, 4M- and 3R-Series machines feature a variety of improvements to help elevate tractor performance and operator experience, especially in heavy-duty work applications.
Our customers are always seeking solutions to help get the job done faster and with more ease. Our MY24 compact utility tractors are equipped with game-changing features to help do exactly that," said Mark Davey, go-to-market manager, John Deere. "By taking our customer-trusted models, and elevating their comfort and performance features, we are setting our customers up for success year-round, even in the most challenging conditions."
Built with heavy-duty applications in mind, the new 4075R Compact Utility Tractor boasts a 75-horsepower engine and heavy-duty front axle for ideal power and endurance on the job. Building on operator comfort and convenience, the 4075R, along with the full lineup of MY24 4R cab machines, boasts an electrohydraulic (EH) rear hitch control, promoting simplified operation for precise control and repeatability during rear-implement applications. To further elevate performance, packages designed specifically for snow application are available on the 4R cab models to help ensure optimum operation and performance in even the most severe winter weather conditions.
Adding to the full suite of trusted John Deere technology solutions, the latest 4-Series models provide an ideal operator experience with the inclusion of technology-ready capabilities, including integration into the already existing Tractor Plus application.
Keeping visibility in mind, all MY24 3R- and 4R-Series tractors, as well as heavy-duty 4M models, feature lighting enhancements, including LED headlights, LED work lights and an LED beacon light option for cab models. Also new for MY24, customers can benefit from elevated creature comforts, including Bluetooth Radio on the 3R- and 4R-Series cab models.
Reply to
|

Quote Reply
|

Add Photo
---
John Deere Debuts New 4075R Compact Utility Tractor
2023-05-31 201631


The new JD 4075R ....

Picture Link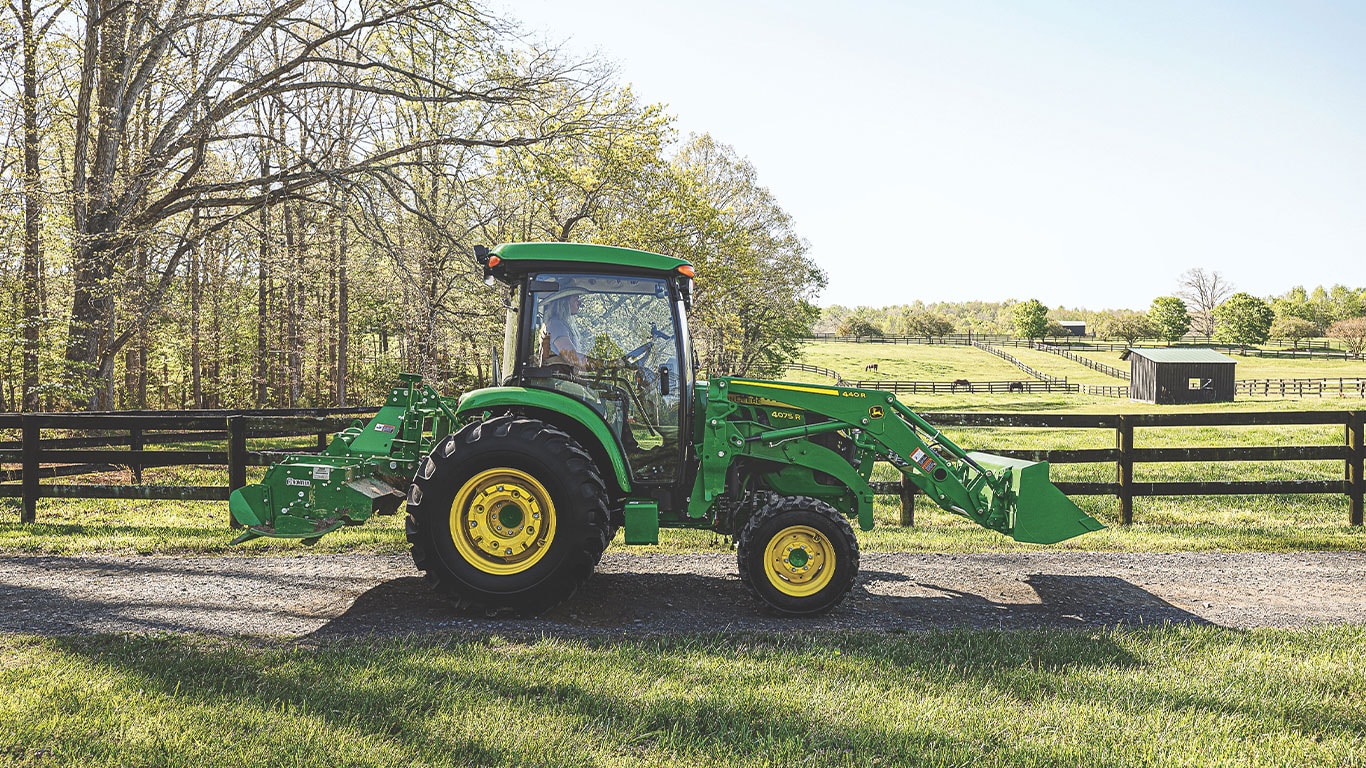 Reply to
|

Quote Reply
|

Add Photo
---
John Deere Debuts New 4075R Compact Utility Tractor
2023-06-06 201657


Three years ago I was selling the majority of my small farming operation which included my favorite tractor to operate I have ever own, a JD 5525R. Served me well and comfortable. My youngest grandson spent many hours in the cab with me, the left fender was a great seat for him. With my leaving the small farming operation still wanted and YES, I NEEDED another tractor. I began search as if new to tractors among brands i would consider. Turned out to be only three and then two and then one. Sadly, I passed on the JD 4066R. JD had my heart, had the room cab, had the comfort, had the HP. What it did not and the reasons I ended with the Kubota GrandL6060 were so simple to me but JD design passed on them, to me big. The first was only Cat One lift pin holes. I still had some Cat 2 equipment set up, not HP needed but Cat 2 lift pins were needed. The one that really was the hook in my mouth as it hit me, there is NO windows in the sides of the cab. For me that meant you either had the heater or air conditioning on unless the single rear window could have air blow in and out the same window which I doubt was reasonable to believe would happen. So no through the cab ventilation unless again running heater or air conditioning. Oh, wait! I missed you can run with door or doors open, issue solved. But I know that was not smart for me, in no time would have neither door.
I have hooked and unhooked many an implement by myself and mostly still by myself. To have the right door open to reach controls and to walk around it for me was the deal killer. (yes there are controls on the fender option) Yes, the Kubota was a few thousand less (5 to 7) and yes, the JD cab was and is larger and more comfortable, but the two designs JD totally messed up on the tractor was a deal killer. ....

Reply to
|

Quote Reply
|

Add Photo
---
John Deere Debuts New 4075R Compact Utility Tractor
2023-06-30 201688


TTWT on youtube has a good comparison on this tractor with the 5074E. No idea Tim who does this is but have seen many of his videos and he is REAL. I think he does a very good job in comparing the two models. Don't miss the difference in price and be shocked as I was to the amount of difference as which one is higher priced. ....

Reply to
|

Quote Reply
|

Add Photo
---
John Deere Debuts New 4075R Compact Utility Tractor
2023-07-30 201712
Quote:

Reply to

|

Quote Reply

|

Add Photo Go Top
Share This