Go Bottom
---
Top Spring Tractor Projects
2021-02-21 200053
Now is a great to make a list of things you want to do with your tractor this spring. Hard to believe but the snow is going to melt and it is great to have a list that you can refer to to be sure you ge stuff done 2when it needs to be done.

Here is a list of 25 Possible things to Consider ! Whats on your Spring todo list ?

Remove Snow Equipment and mount mower,change fluids and filters

Gravel your driveway

Build a fence

Dig ditches

Return gravel that has escaped your driveway back to where it belongs

Disk a seedbed

Till a garden

Plant a food plot

Grade and level a gravel driveway

Dig a trench

Blow debris off your driveway

Loosen and pulverize soil

Cultivate a seedbed

Rake your landscape

Aerate your lawn

Add landscaping rocks

Lay drainage pipes

Seed your lawn

Fertilize whatever you're growing

Eliminate standing water

Bag leaves and other debris

Dethatch your lawn

Fill and level a low spot

Plow a garden

Maintain a trail

Reply to
|

Quote Reply
|

Add Photo
---
Top Spring Tractor Projects
2021-02-25 200069


Last summer I replaced a failing two tier, 60 ft unilock retaining wall with a single tier limestone wall. Because of the weight of the limestone wall I had to pay to have this done. Since then I have been using the unilock to make rings around trees, garden edging, and rough mini patios under garbage cans, hose reels, etc. I don't think I can use all the unilock up!

I thought of selling the useless unilock but it requires scraping off the old caulking, cleaning, etc so it's not worth that much to most people. I have my wife's cousin to help me who works for crew cuts in this time of Covid. I enjoy using my new holland workmaster 25s for this work! ....

Reply to
|

Quote Reply
|

Add Photo
---
Top Spring Tractor Projects
2021-02-25 200070


Limestone wall installed to replace 2 tiered unlock wall by previous owner that failed ....

Picture Link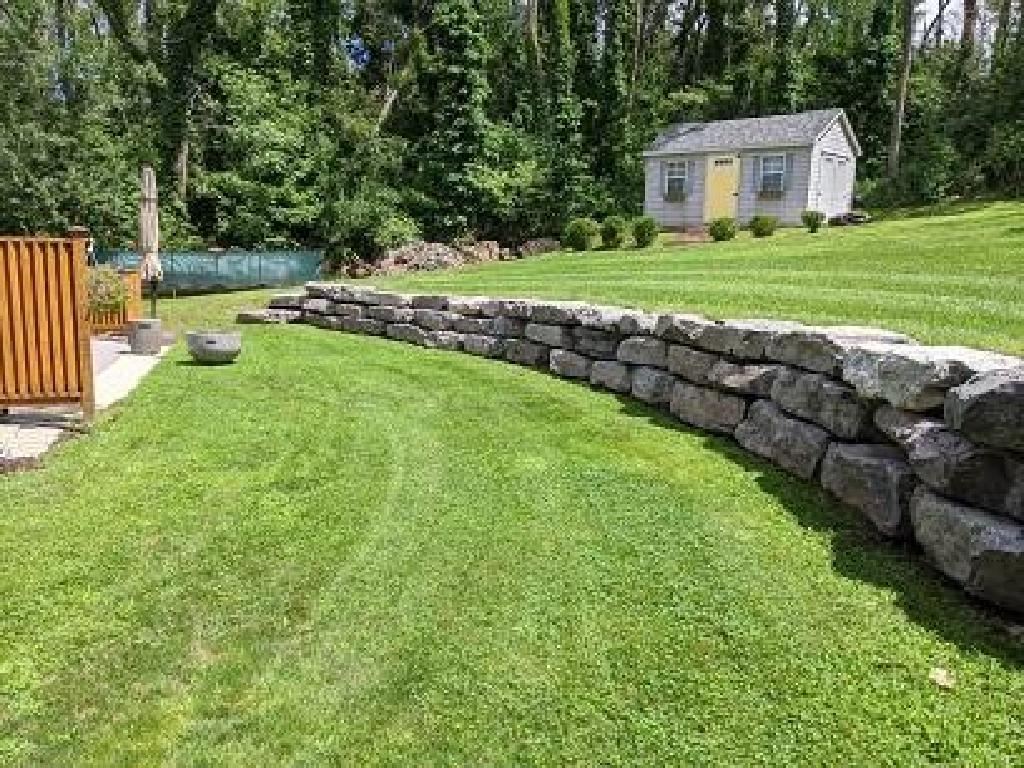 Reply to
|

Quote Reply
|

Add Photo
---
Top Spring Tractor Projects
2021-02-28 200083
Quote:

Reply to

|

Quote Reply

|

Add Photo

---

Top Spring Tractor Projects

2021-03-01 200087



Hello Handson, this job was done with small excavator with thumb to pick and place stones. Skidsteer to move soil. Yes, the unilock gets acid rain stained and doesn't look nearly as nice after a few years, although I was told I had good unilock with color throughout. An occasional powerwash would help :) You can see from rise off the soil that I would be much more comfortable with the large stones as opposed to the unilock.

When I bought the house in 2014 the unilock walls were beautiful. Then with the heaving of the soil over the winters it toppled after 4 years. The foundation was poured correctly for the unilock wall and the new stones are on top of that foundation. But there wasn't the correct drainage and stone behind the unilock walls. Hopefullly this new limestone wall will hold up.

....
Reply to

|

Quote Reply

|

Add Photo

---

Top Spring Tractor Projects



bbqhoncho
Join Date: Oct 2016
Posts: 8 north tonawanda ny


2021-03-04 200102



Always a good time to play with our tractor ....
Reply to

|

Quote Reply

|

Add Photo

---

Top Spring Tractor Projects

2021-03-08 200112



I have to fix my 1/2 mile gravel lane...lots of potholes, ruts and gravel in ditches.
I have a rollover box blade that i will use to level as best as i can, then fill the holes.

Then, I'll move my firewood bins back into the shed for storage.
After that, probably start to move logs to cut them and prep for splitting.
Then, Harvest more downed trees for firewood.
Then fix the road again because it's a shared lane and it gets abused at times.
Then more firewood stuff
Then split and stack that stuff ;)

BUT FIRST i need to change my fuel filter and see if that fixes my high rpm issue (other post in Other Tractor brands- Mahindra)
And change my oil & lube...

Soon as the weather gets a bit warmer - maybe this week? Maybe tomorrow :) ....
Reply to

|

Quote Reply

|

Add Photo

---

Top Spring Tractor Projects

2021-03-19 200142



Last Spring I was asking about how to level my yard, so I did nothing in 2020.

I am feeling the moviation to level the low spots in the yard this spring.

I am going to get some marking paint and spray all th elow spots.

Order some dirt and get busy.

....
Link: How to level a lawn

&nbsp

Reply to

|

Quote Reply

|

Add Photo Go Top
Share This