Go Bottom
____________________________________________________________________________________
Plugs keep fouling no power at high end MF 2200 Continental
2017-06-14 196745
Hey all,
I'm running a 1967 MF 2200 Industrial with a Continental gas engine.
Been having problems for awhile now. Started with just losing power when I needed her to do some real work. Like engaging the hydraulics or PTO or hitting the higher gears. She seemed to run ok at the lower end.
But I started burning out points. I played with a bunch of things including changing plugs, wires, coil, and distributor cap. The started calved in the process too so that got changed.
I was fouling up plugs regularly. Dry carbon. No shine, no fuel. All four plugs equally fouled. No individual cylinder seemed any different. I had tested compression early on and all was in normal ranges. Nothing burning up out the exhaust. All smells were normal. Hasn't burned oil to speak of.
I'd clean the plugs up, she'd run like a top for another half hour or so and then fouled again.
Zero success running in cold weather.
Finally dad and I figured we should just put in an electronic ignition. Put in a Pertronix Ignitor (version 1). (Note: I didn't upgrade the coil because from what I could determine she was hot enough. But I'm second guessing that.)
She fired up beautifully. Worked great. Used it through the winter, starting it at -20C no problem.
Then this spring, she started fouling again.
It was due for an oil change. The oil came out grey and slightly thinned out and smelling like gas. Nasty.
That prompted me to chase back to the carb and have a look around. The high and low screws were set too far open so I closed them down to a turn and a half.
The float seemed high. I remember the previous owner saying he had rebuilt the carb and thought the float might need adjusting. So I dropped it just an 1/8th of an inch or so.
Fired it back up and it was lovely. I ran her good with the mower full on for 40 minutes. I finally had to quit.
But I went back tonight and I now I can't even get her to catch. Plugs were now shiny and wet. I know I flooded it once trying to get her going. Nothing. Ran the battery down. Boosted it. Nothing.
Came inside. Drop kicked a pizza. And here I am.
I'm out of my depth now. Actually I've been out of my depth for a long time. But my dad is a champ. Taught me all I know on the farm. Can't express how much it's shaped me as a man. Seriously. Right in the feels.
Now what?
Possible problems:
Plugs aren't hot enough?
Coil doesn't match?
Carb needs adjustment?
Dad thought maybe a head gasket leak or crack somewhere letting in coolant. He didn't think gas would turn the oil grey. I'm hoping he's wrong!
Seriously thankful for your input!
Doug
Reply to
|

Quote Reply
|

Add Photo
____________________________________________________________________________________
Plugs keep fouling no power at high end MF 2200 Continental
2017-06-17 196746
It gets tough and frustrating when you have touched so very many things on it!
Grey oil is usually a sign that you may have some coolant seeping from a bad head gasket, crack or other source.
Once the plugs get fouled they can be problematic to get great spark without replacing.
Carburetor may be messed up.
....
Reply to
|

Quote Reply
|

Add Photo
Return to index

Go Top


Share This
Tractorpoint Parts
Fast Delivery!
Low Prices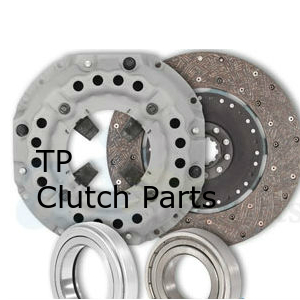 Clutches Single | Double