Go Bottom
____________________________________________________________________________________
Richmond INDOOR Antique Pull March 14-15
2014-03-09 189500
The 1st Annual Pickin', Grinnin', and Pullin' Festival will take place March 14-15 at the Fairgrounds in Richmond, Kentucky. Presented by the Battle of the Bluegrass Pulling Series (BOB Series), this event has something for everyone. "This event is part of the 5th Annual Bluegrass Antique Super Pull, one of the largest Antique pulling events in the nation, and this year we have added a ton of prize money to the Antique pull, as well as having something for the Hillbilly in us all," said BOB Series CEO, Tom McConnell. "The purpose of the event is for families to come out and have a good time, enjoy the pulling, the music, comedians, the wood carvers and great food." This is an INDOOR pull and event. Pulling starts at noon each day!
The Bluegrass Antique Super Pull is slated to possibly be the largest Antique pull in the nation for 2014. Pullers from across the nation have already committed to attending, some pullers coming from as far as Oklahoma, Minnesota, New York and all points between. The highlight of the Antique pull will be the "Baddest Antique Tractor in the World!" which will consist of two classes, the 5000 8MPH on Friday and the 6500 12MPH on Saturday. Both classes pay $500 to the winner. "A lot of Antique pullers make the claim that their tractor is the baddest, and we will find out who the Baddest of the Bad are on March 14 and 15," commented McConnell. Over 1,000 hooks are expected during the two day pull.
The Pickin' will be provided by a ton of great music both days, as will the Grinnin', with great country comedians taking to the stage both nights. On Friday and Saturday both, local musicians are welcomed to come out and join the Jam Sessions. "Just bring your guitar, banjo, mandolin, and join in and have a good time," said McConnell.
Music and Comedy acts will kick off at 5pm on Friday, with musicians and comedians, the Moron Brothers, kicking their show off at 6pm, followed by Jerry Lee Lewis-styled piano player Blair Carmen, doing great rockabilly and old time country music.
On Saturday, the music will kick off with Shades of Grass at 2pm, followed later by Bluegrass 101 and local favorite, Southland Drive. Plus, direct from Mayberry, USA, is Barney Fife Impersonator, Sammy Sawyer, who will be arresting pullers who are cheating, as well as a comedy show later in the evening.
Also both days will be Chainsaw Wood Carver, Harley Dougherty. Harley will be carving benches and Antique tractors out of wood, before your eyes. The carvings will be auctioned off to the highest bidders both days.
For a complete line up of events, please go to the Battle of the Bluegrass website at www.bluegrasspulling.com and click on the Pickin' Grinnin' and Pullin' logo.
Link:
Click here for event info details, class line up, and event line up!
&nbsp
Picture Link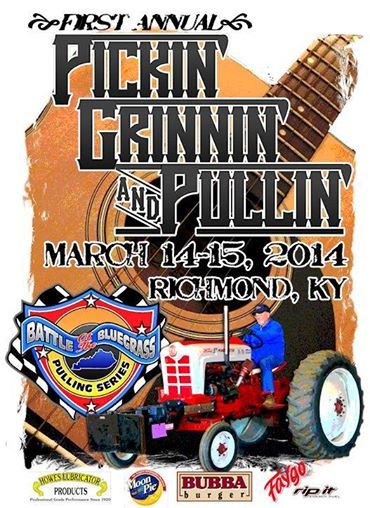 Reply to
|

Quote Reply
|

Add Photo
Return to index

Go Top


Share This
Tractorpoint Parts
Fast Delivery!
Low Prices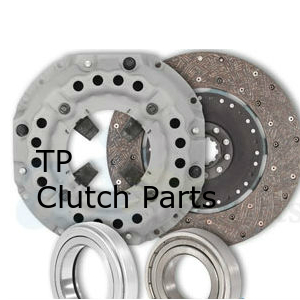 Clutches Single | Double