Go Bottom
---
Strait Flex Corner Sheetrock coffered ceilings Repair
2022-03-28 200943
I have quite a few coffered angled ceiling joints that were done with a tape that maybe made by Strait Flex or similar product.
House is 20+ years old now and the joints are good in the middle but the edges have lifted. Is it possible to use construcion adhesive with a caulk gun to get it to bond before paining and spackling? Could be a really messy job to remove and re mud the ceilings ugh. I also beleive at one time some of these fancy joint materials were not set in mud but use a spray adhesive. So right now not sure what I have. Will post a picture if I figure out how to.
Reply to
|

Quote Reply
|

Add Photo
---
Strait Flex Corner Sheetrock coffered ceilings Repair
2022-03-28 200944


Joint view ....

Picture Link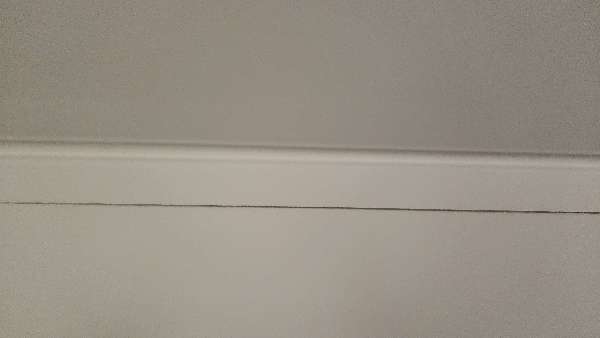 Reply to
|

Quote Reply
|

Add Photo
---
Strait Flex Corner Sheetrock coffered ceilings Repair


GCGRIMES
Join Date: Apr 2011
Posts: 10 Milford, Nebraska

2022-03-31 200946


If you were at good at this it is probably better to just pull it off and start over.

But that said you may as well start with a repair attempt to see how that goes first and use the tear off as your fall back.

The mud probably got squeezed out too thin during application or was the wrong mud type. I would use the green can that has mud with more adhesive in it to set the tape.

I would star by using a 4" knife and gently lift out the loose side of the tape, make sure you get nay dust out, maybe vacuum it as you lisft the tape.

You should gently lift the edge of the tape and get new mud behind the tape, then press the tape flat, squeezing out the excess. A round paint brush might help .

Work the mud behind the tape while squeezing the mud in the direction where the tape was still stuck and you couldn't get behind it. Be gentle with your squeeze-out.
Do a second coat to hide the tape. Maybe a third for finish depending on how good you are. You are just trying to get a flat surface that hides the tape and feathers into the drywall surface.

If all fails you will be stuck replacing entire sections as I doubt that tape you buy today will match the Strait Flex variant from 20 plus years ago.

Have fun or hire it out. Amazing how fast a rpo is at this kind of stuff and how painful for a novice !!
....

Reply to
|

Quote Reply
|

Add Photo

Go Top


Share This