| | |
| --- | --- |
| | |
glocknut30's Tractorpoint Album
Click Image To Enlarge


Picture 1: Lincoln 255 MIG
My latest toy is a joy to use. I had a Miller 210 but it would not melt butter. Upgraded to this boy and it sticks 1/2 inch with ease!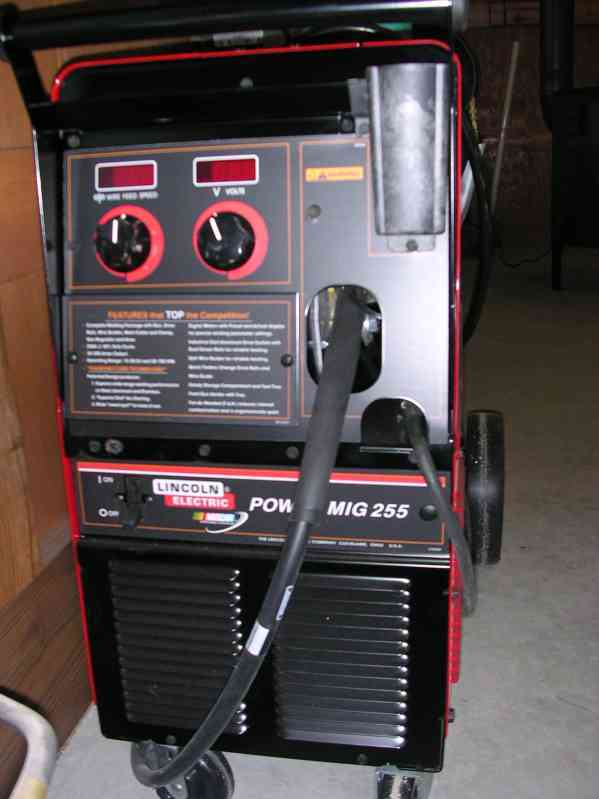 Picture 2: Two of my Prized Possessions...
Bo and the Boss Lady on delivery day.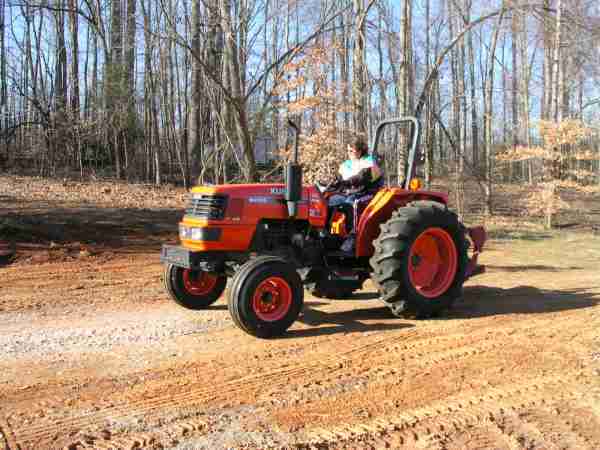 Picture 3: The Beginning
This is the spot where I put my barn. Previous owners had a house trailer here so the well and septic tank were already installed. All I needed was a little grading.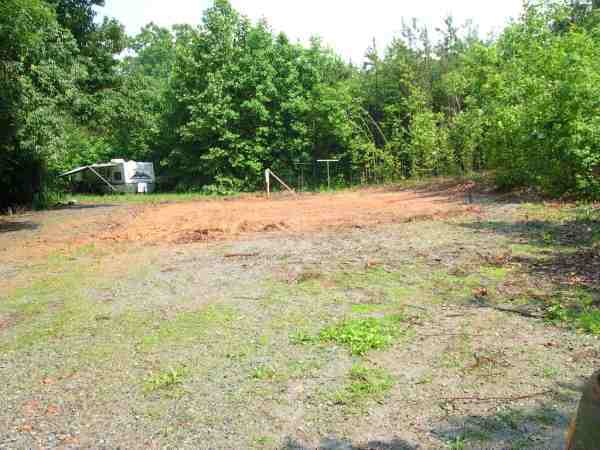 Picture 4: Planting Poles
I used a 3 PH hitch adapter and my boom pole to lift the 6x6 poles into position. This arrangement has become very handy for loading and unloading stuff from the truck and trailer.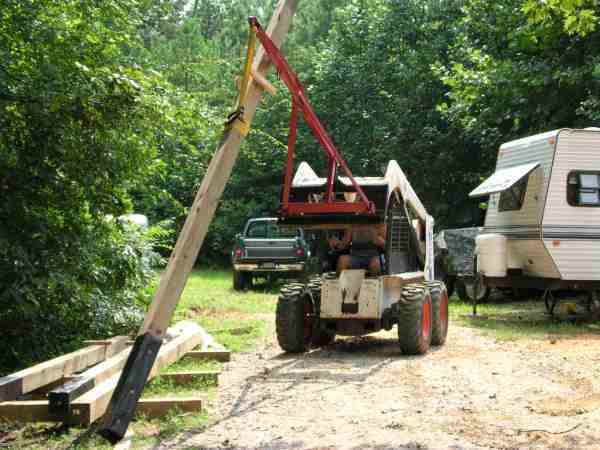 Picture 5: Poles Up
Footings dug and poles set. Waiting for concrete to dry.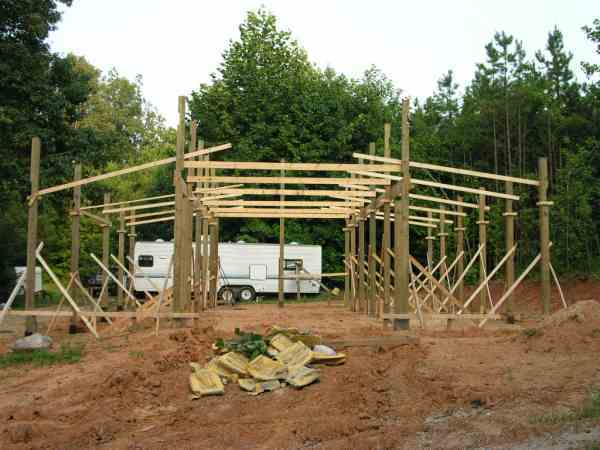 Picture 6: Framing
My brother-in-law is a New Jersey steel worker. His talents came in very handy as this picture shows.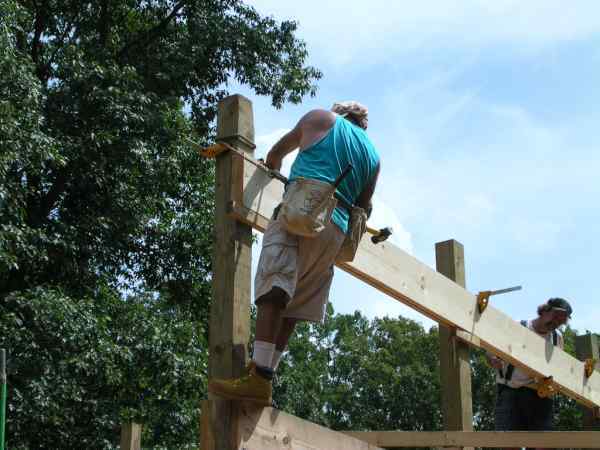 Picture 7: Progress
Poles are in and set, roof has sheeting and paper. Loft floor is visible in the rear above Bob-de-Cat.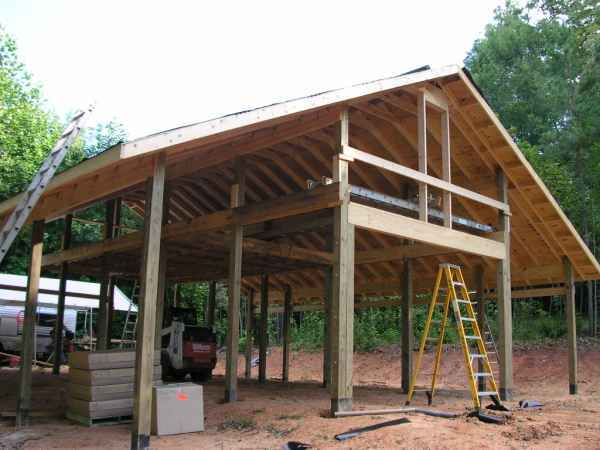 Picture 8: Backfill
Two tandem loads of ABC made a 6 inch base that I tamped three times with wetting in between. I was starting to wonder if I even needed concrete.

Old Bule made the chore seem easy.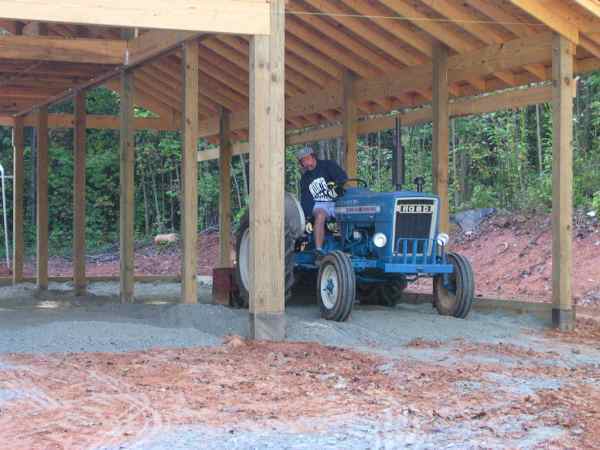 Picture 9: View
This is the view from the side of the barn. That field is over 5 acres with a creek bordering the far side.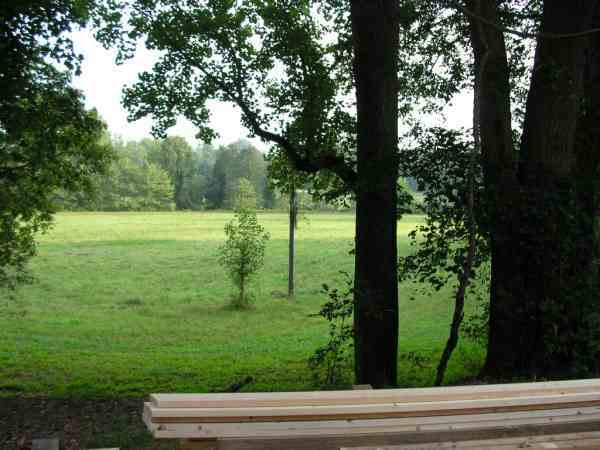 Picture 10: Rebar
95 sticks of 20 foot #4 rebar was fun to install. Had to do it all in the dark - was running a bit behind.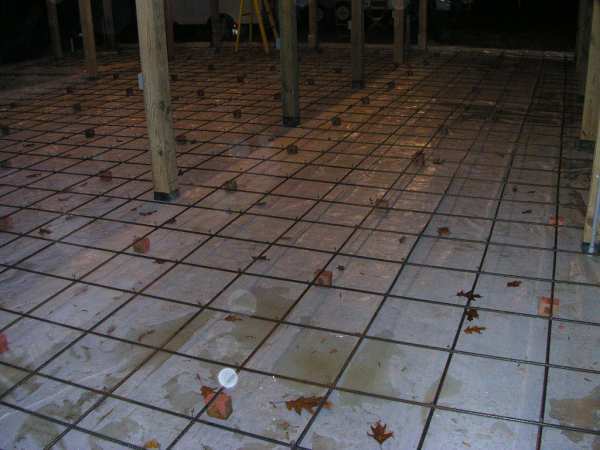 Picture 11: Roof
Roof is on and most of the exterior plywood covered by house wrap. Over that will go foil backed fiberglass insulation and then the steel.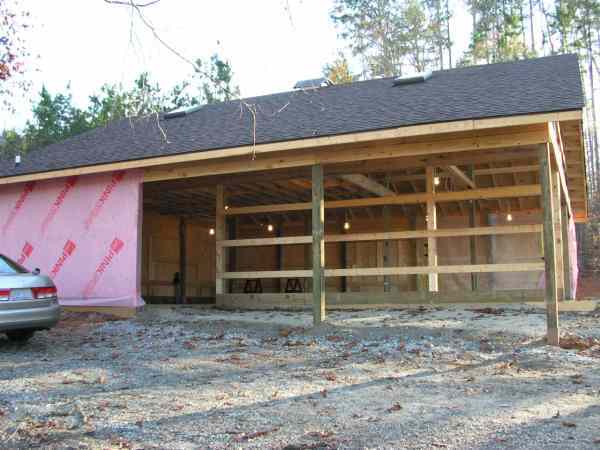 Picture 12: Steel
Hanging the steel. Brother-in-law came back down to give me a hand again.
I rented a cherry-picker but it broke after the second sheet and had to be dragged back to the rental yard. Bob-de-Cat was employed for the remainder of this chore.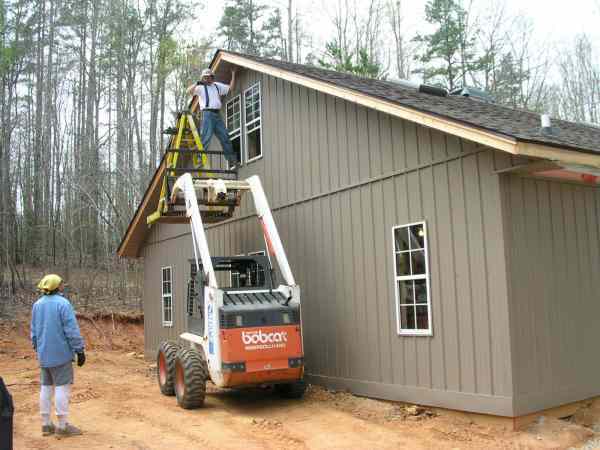 Picture 13: RipRap
The uphill side has a bank t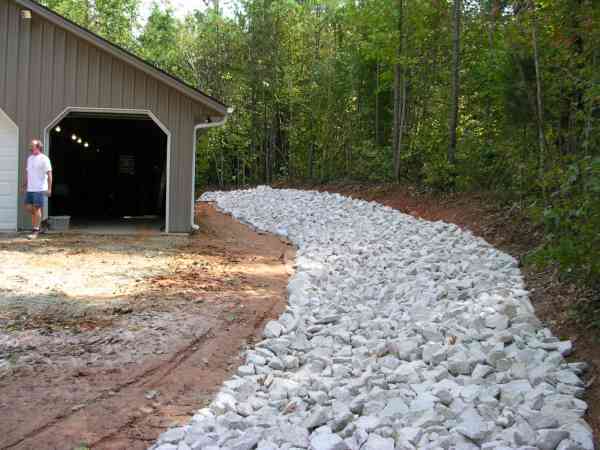 Picture 14: Finished!
Boring in appearance but functional.

That center door is 14-feet wide and the one on your right is 9-foot. The octagonal vent is backed by a 1/2hp TSC fan and louver assembly for fume extraction (no, for TRACTOR funes!).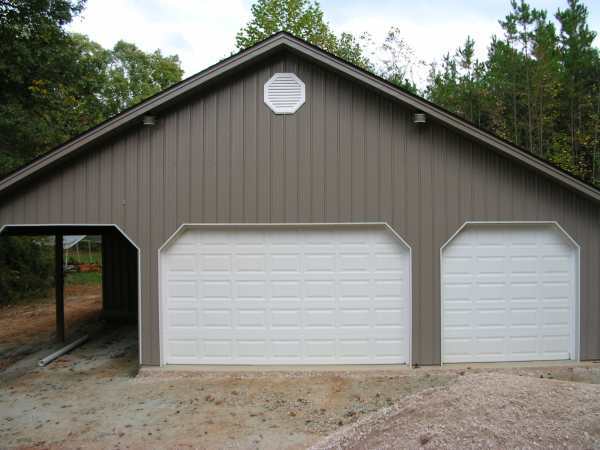 Picture 15: The Throne
I never knew having a bathroom in a barn could be so handy. The Boss Lady doesn't mind staying out there all day now.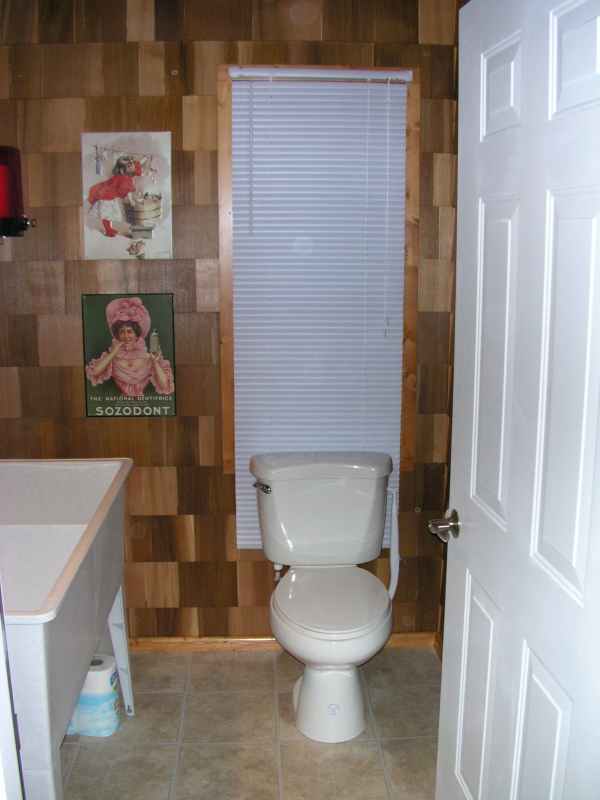 Picture 16: Loft
Picture of loft from the stairs looking toward the push-up door. That floor is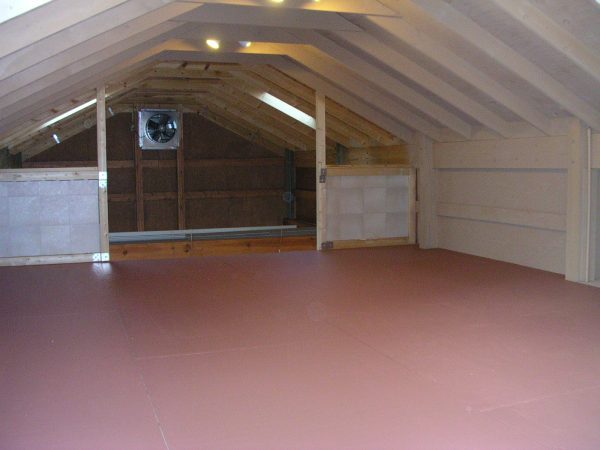 Picture 17: Plowin
Going to try out my new 2-Bottom plow.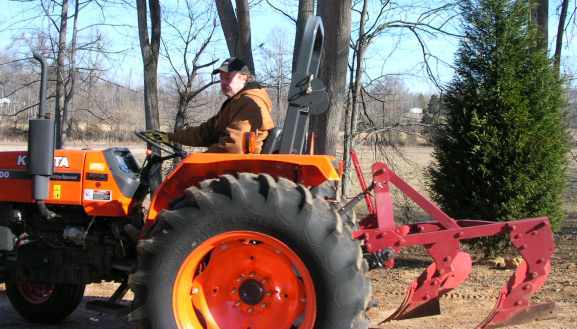 Picture 18: Kubby
Bought this for The Boss Lady and promptly put both of them to work moving rip-rap. Bob-de-Cat would have made a muddy mess but the little RTV worked great for moving the stones.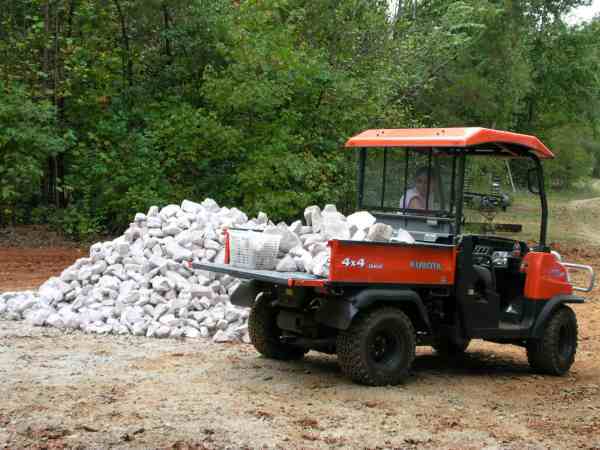 Userid:



Joined: 01/2005

Located: Raleigh, NC
Interests:
Computer Geek by trade, Farmer by Passion.

Equipment:
Kubota M4900 for farmin, Bobcat 763 for workin, Kubota RTV900 for playin. Also a Harley Wide Glide for "off the farm" riding.
30-Foot Nomad Camping Trailer, 16-Foot Beavertail Trailer, Double Bottom Plow, Cultivators, Woods 7-Foot Angle and Box Blades, 7-Foot Rotary Cutter, Tiller, Quick Hitch, Root Grapple and Combination Buckets, Boom Pole, Forks, Log Splitter, 6500w Generator, Lincoln 255 MIG Welder, Power Washer ...hey, don't let my wife read this list...
Property:
31 acres: Some bottom land, three streams, hills and valleys, about 1/2 open rest woods.
Plan to build retirement home there someday soon and stay put.